Michigan Central Art Program
The Michigan Central Art Program aims to establish Michigan Central as part of Detroit's arts and culture scene, an already established global destination, rooted in a vibrant local community and engaging the world. The Program explores the intersection of art, mobility & society and shares the guiding principles and philosophy of Michigan Central, by celebrating innovation, equity, and inclusion. The original art and arts programming aspires to engage audiences, start conversations, foster community and inspire discovery.
The Michigan Central Art Program is guided by a rotating group of artists, curators, nonprofit and community organization leaders, and institutional members of Detroit's arts and culture scene. The group maintains Michigan Central's grassroots connection to Detroit's creative community and ensures that the art is reflective, supportive, and equitable. The program will focus on uniting communities, bridging physical divides, and increasing conversation surrounding mobility and accessibility for the people of Detroit and the nation.
The first phase of the Art Program is underway with the original art installations at Bagley Mobility Hub to be unveiled in Spring 2023 and art projects throughout other Michigan Central spaces to follow. Would you like to hear about upcoming opportunities? Are you interested in learning more? Sign up here.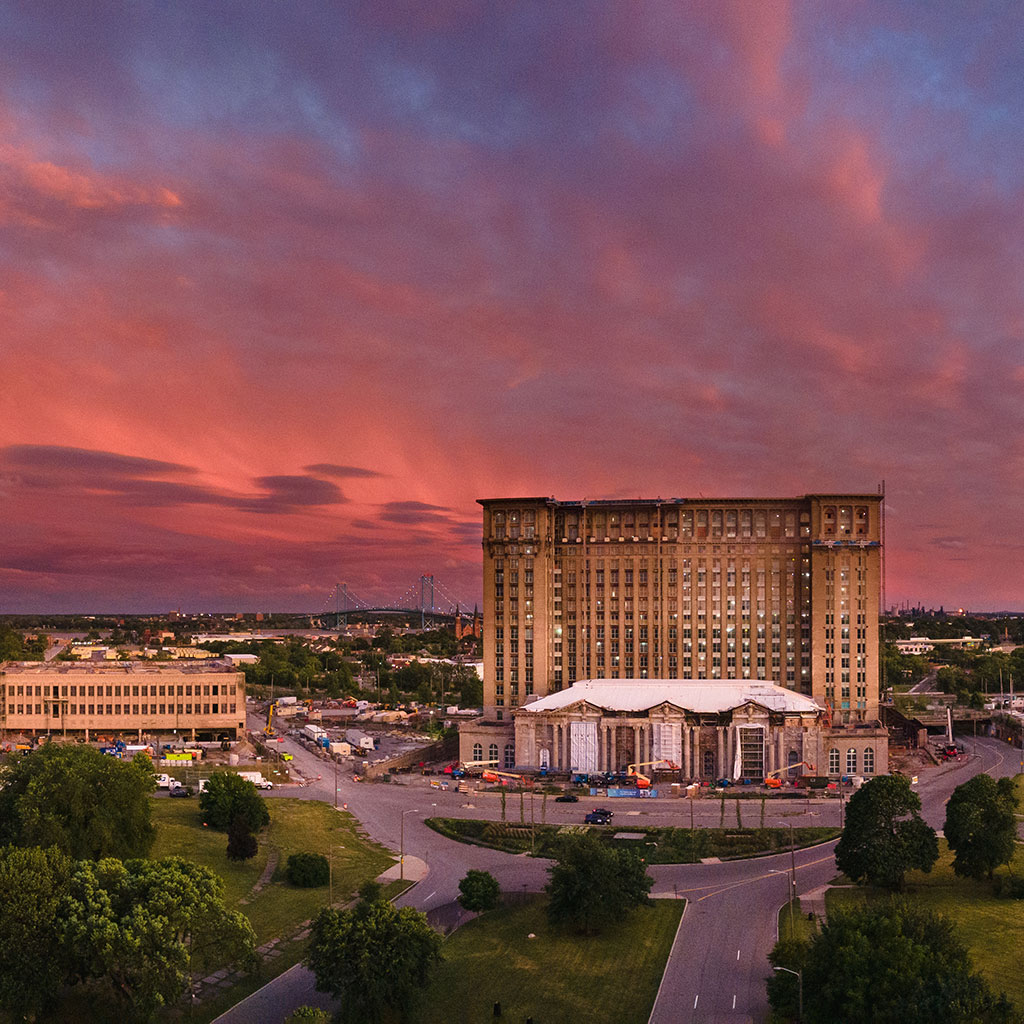 Bagley Mobility Hub Public Art
Bagley Mobility Hub is the first new building to open within Michigan Central and will house the first series of original artwork within the Michigan Central Art Program. The art installations will live in three separate areas within the space and enhance the dynamic landscape, amidst the public amenities Bagley Mobility Hub will offer, and set in the midst of two new open plazas and green spaces.
Artists responded to an open call to propose their concepts and share their inspirations. Three were selected to create one-of-a-kind pieces that engage and celebrate the community. Patrick Ethen created the South Stairwell installation that connects new pathways in the building while creating engagement and interest for viewers looking through the exterior, activating and energizing the landscape. Senghor Reid's artwork wraps the facades of three on-site water cisterns, to tell a story of transformation and purposeful integration with the landscape and the surrounding neighborhoods. Amelia Duran, Director of Garage Cultural, worked in collaboration with artists DeMaciiio and MasPaz and the community at large to produce an installation for lenticular panels on Bagley Street that cultivate connections between biophilia and movement. Installation has already begun and is expected to be unveiled in early Spring 2023.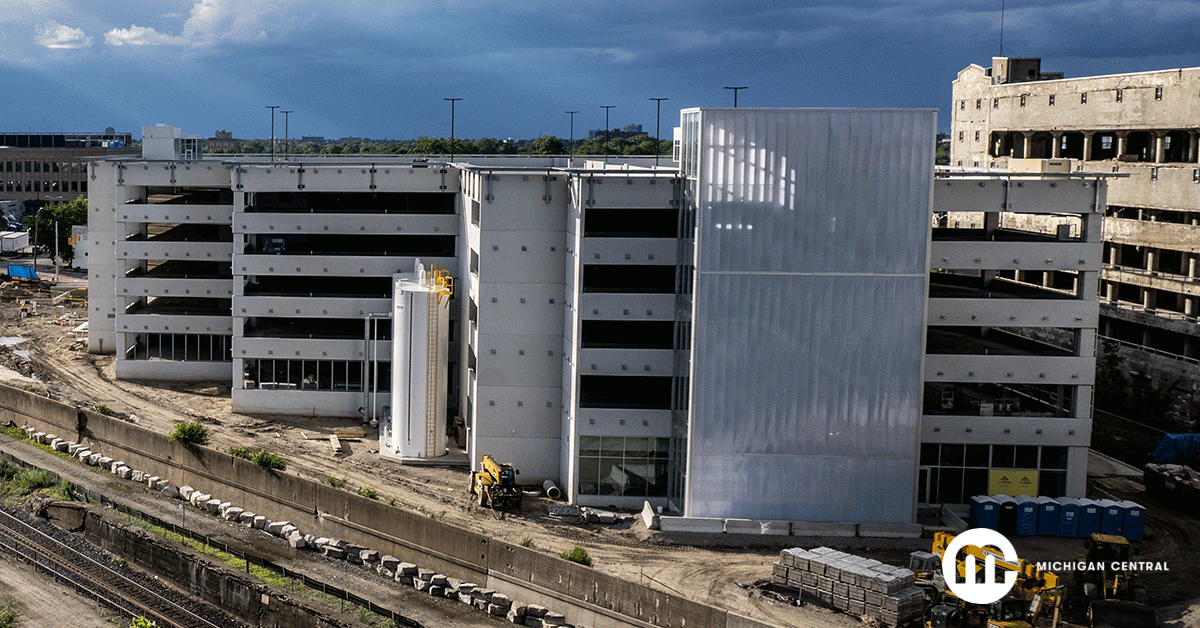 Garage Cultural (Art on the Block)

Bagley Street

Art on the Block is a community public art initiative of Garage Cultural, a local arts and cultural organization with more than 40 years of history in Southwest Detroit. The group aims to include local artists and organizations to create a piece spanning a 97-foot stretch along Bagley Street at ground level. The concept of the piece, "For Us, By Us," will honor those involved with the Equitable Internet Initiative. Duran was inspired by the work the group has done to create the infrastructure the community needs to access essential technology. The project, led by residents of the community, will be installed with vinyl wraps, marking the group's first installation that is not painted.

Patrick Ethen

South Stairwell

Patrick Ethen, an architecturally trained artist and designer, is producing an abstract installation of slowly moving neon light patterns in the south-facing stairwell of the six-level Bagley Mobility Hub. A resident of Corktown who has been working in Detroit since 2015, Ethen's kinetic light sculpture uses neon bulbs to produce saturated color frequencies that create a glowing wall.

Senghor Reid

Water cisterns

Senghor Reid, artist-in-residence at Cranbrook Schools in Bloomfield Hills, Michigan, has had his work exhibited in galleries and museums in the U.S. and abroad, including Museum of Contemporary Art in Detroit. His work explores the interaction between the human body and the environment, with an emphasis on water. Reid's installation will feature textured depictions of major bodies of water in Michigan – including the Great Lakes and Detroit River – applied via vinyl wraps on each of the three 40-foot water cisterns at Bagley Mobility Hub.
Curatorial Advisory Board
The Curatorial Advisory Board is a rotational group of experienced artists, curators, non-profit and community organization leaders, and institutional members amongst Detroit's arts and culture scene. The purpose of implementing the Curatorial Advisory Board is to sustain a grassroots connection to Detroit's creative community and ensure that integrity of public art included in Michigan Central is reflective, supportive, and equitably engages with the community at large.
The 2021/2022 Curatorial Advisory Board is composed of:
Abir Ali
Independent Curator
Halima Cassells
Artist
Cezanne Charles
Co-Partner, Root of Two
Bree Gant
Artist
Erik Paul Howard
Co-Founder, Inside Southwest Detroit
George Jacobsen
Director, Economic & Cultural Vitality, Davidson Foundation
Jova Lynne
Curator, Museum of Contemporary Art Detroit
Matt Naimi
Founder, Dreamtroit, Make Art Work
Rochelle Riley
ACE Director, City of Detroit
Marc Schwartz
Co-Founder, Art Detroit Now & DLECTRICITY
Vito Valdez
Lead Artist Partner in Public Art at DIA
Nate Wallace
Knight Foundation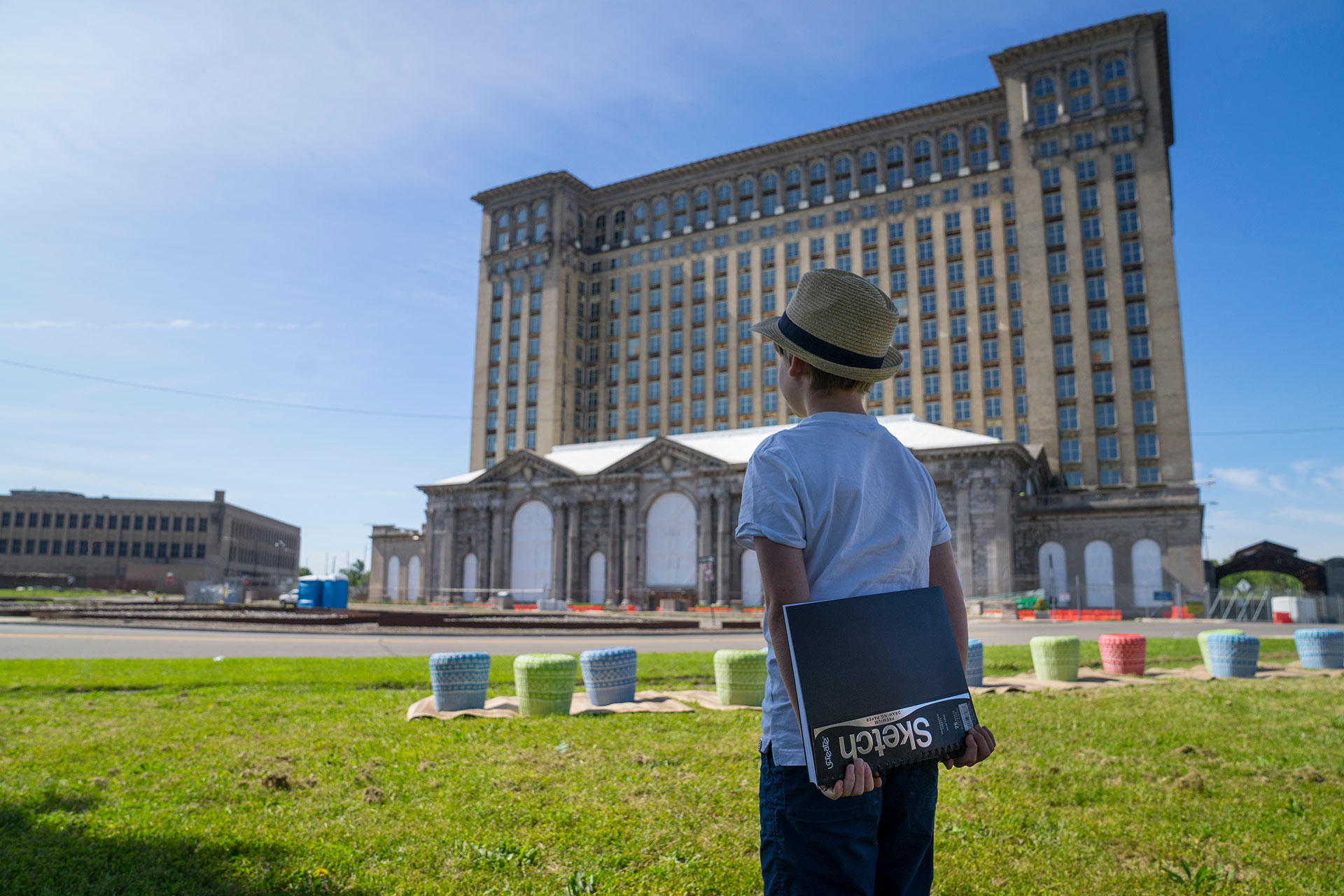 Frequently Asked Questions
Q. Where is Bagley Mobility Hub located? Can I see the site in person?
A. The Bagley Mobility Hub is located at the intersection of Bagley Street and 14th Street in Detroit. You're welcome to visit the site in person.
Q. How long will the art remain installed at Bagley Mobility Hub?
A. The expectation is that the materials will withstand a minimum of 4-5 years. Following this period, there is a possibility that the works will be removed or rotated out.
Q. How can I learn when future art opportunities become available?
A. Sign up here to be notified about future opportunities for the Art Program.